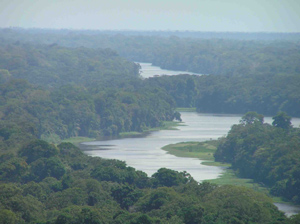 Walking tours can be self-guided through the trail in the national park. This can also be done with one of our experienced guides. Another interesting hike is to the Tortuguero Hill which is a 119 meter (390 foot) high extinct volcano located at the river mouth three miles from the village. One needs to get there by boat and then there is some physical hiking involved to get around the base of the hill and up to the summit. The forest is more mature than what is found at the trail in the national park. There are poison dart frogs on this trail and of course a spectacular view of the surrounding forest from the top. This tour also lasts three hours and costs $20 per person. Note: A water taxi fee applies and is determined by the number of people on the tour. The use of rubber boots is obligatory if you want to walk on the trails of the national park. We provide a number of boots of different sizes free of charge for our guests. The information centers around the village rent them for $1.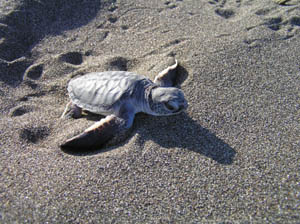 Turtle tours (for Leatherbacks between March-May and Green turtles between July-October) are offered in season.You will be accompanied by a licensed expert guide. A two-hour tour costs $20 per person. All our turtle tours include a voluntary tax to support the "Turtle Spotter" program that helps safeguard the nesting turtles and provide a better experience for the human visitors to the beach. Make sure you receive the sticker that shows you are supporting the program. Click on the link below.
Other Activities
Choose the activities you would like to do. We can help you find whatever you like whether it be animal and birdwatching, hiking, kayaking, zip-lining or even trying your hand at fishing. We will try to help you to have a complete Tortuguero experience.
Entrance to the Tortuguero national park ($10/Adult, $1/child under 12 per day) is not included in the price of the tours.